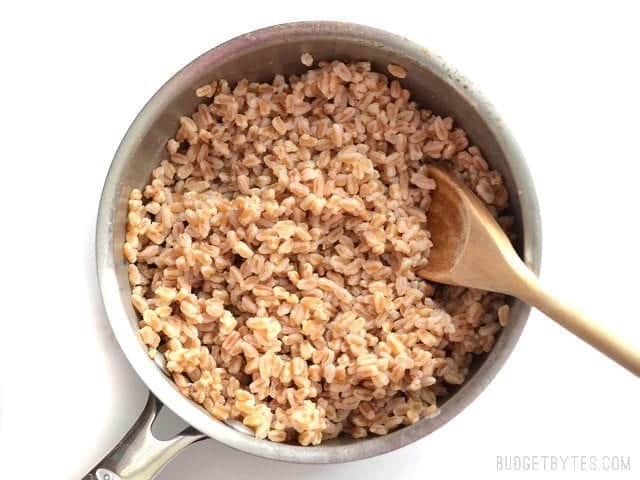 I have a confession to make. I have the most clutter prone habit of cutting recipes out of magazines and newspapers that require ingredients that I have never heard of but the picture of the final product looks so appetizing that I just can't resist. In that moment I really believe that I will research and purchase all of these foreign ingredients and produce an equally delicious meal.
Unfortunately, it just never really happens, until very recently when a friend told me about a fabulous recipe that used farro. After several minutes of questions and coaxing, she convinced me I could pull it off. Well, I did and I'm so glad I took the plunge. That recipe has now become a family favorite and using farro and other grains is a common part of our eating routine.
Farro is actually a grain from the wheat family and as such does contain gluten so celiac sufferers beware. It has the luxury of being a true whole grain so it provides all the proven health benefits that they afford such as lowering risk of stroke, heart disease, diabetes, and obesity. Full of vitamins and protein, farro has definitely come to stay at my house.
Farro is fairly easy to find these days at larger grocery stores. When shopping, look for medium whole grain farro as it will provide a more complete nutrition profile and the best flavor as compared to small or pearled varieties. The one drawback to incorporating farro routinely into busy weeknight meals is the longer cooking time required to get it just right. There is a solution to prevent falling back into the white rice trap!
Can You Freeze Farro?
Farro is a relatively large grain so it holds up very well when frozen.
How To Freeze Farro
The hardest part of freezing farro is cooking it. I like to spend a rainy Sunday and cook up a large batch of farro and freeze it for later. It allows me to have easy, healthy dinners ready in minutes. I have tried a variety of cooking methods, but cooking farro similarly to pasta is my favorite. I like to toast my farro in a dry pan for a few minutes while I bring a large pot of water to boil. This process really seems to bring out the natural nutty flavor of the grain. Once the water is boiling, add the farro and stir occasionally. Because whole farro is not processed it can have slight differences and will require some variety in cooking times. Just like pasta, simply keep checking the farro until it has achieved that perfect al dente texture, drain any excess water and lay the grain on a cookie sheet to dry.
At this point you can par-freeze the farro as it is on the cookie sheet. This will help to keep the grains separated when they freeze and prevent a big frozen glob that will be more difficult to thaw. Place single use portions in freezer safe bags and pat them flat as this will allow for more efficient storage in the freezer. Add a date and name label and pop the bags in the freezer. Done!
To thaw the grain, simply take a bag out of the freezer and let it thaw a bit. The farro can be warmed in the microwave after adding a small amount of water or in a sauce pan over low heat.
Just a little bit of planning ahead and you can enjoy serving healthy and delicious meals to yourself and your family on even the busiest days. Enjoy!
Save