Can You Freeze Scalloped Potatoes – How To Freeze Scalloped Potatoes
Categories
Popular Foods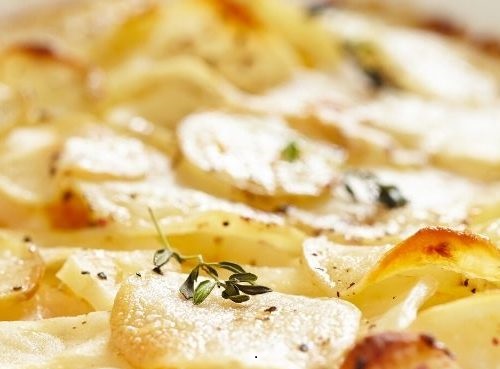 Scalloped potatoes or potatoes gratin is just one of those homey, comfort food dishes that seem to always show up at holidays and other family gatherings. Recipes can vary widely with each family really just trying to figure out how their grandma made it taste so yummy and seem so easy. Unfortunately baking a large casserole dish of gooey, cheesy scalloped potatoes takes a really long time. When you need to get a large amount of food cooked and on the table at one time this can pose a challenge, even for grandma.
Can You Freeze Scalloped Potatoes?
Odds are grandma had a little trick up her sleeve and it most likely involved freezing that delicious casserole of cheesy potato goodness in advance of the family gathering. Yes you can successfully freeze scalloped potatoes and save a ton of time on the holiday.
How To Freeze Scalloped Potatoes
The following steps are the way I have found to freeze scalloped potatoes with 100% success and full family satisfaction.
Step 1:
First, gather up that family recipe favorite and gather everything needed to put the casserole together. The recipe can include ham, bacon, or even breadcrumbs, truly anything will work here. Assemble the whole recipe in the casserole dish and bake in the oven until the potatoes are a light golden brown. You do not want to bake them to the point of total doneness. About 75% cooked through is perfect.
Step 2:
Remove the whole casserole from the oven and place it quickly into the refrigerator. You want to stop the cooking process and quickly lower the temperature of the food for sanitary purposes.
Step 3:
Once the dish is cooled completely, you have a decision to make. If this dish will be served in its entirety and you want to be able to bake it in the dish it has par-cooked in, then cut a piece of wax paper to fit nicely over the top of the casserole. Then tightly cover the dish with aluminum foil and place the whole dish in the freezer. Store the scalloped potatoes in the freezer for no longer than 2 weeks for optimal results.
If you're making this batch of scalloped potatoes to be used as smaller make-ahead meals, then simply portion out the amount desired per serving into airtight, freezer friendly containers. Again, remember to date these as 2-3 weeks is the optimal storage time.
How To Thaw Scalloped Potatoes
When you're ready to eat the scalloped potatoes simply pull the dish out of the freezer. You can thaw the dish in the refrigerator ahead of time or simply put the whole casserole into the oven straight out of the freezer. Both strategies work just fine, but baking the frozen dish will require extra time in the oven. Now you and your family can enjoy yummy cheesy scalloped potatoes anytime!
Save